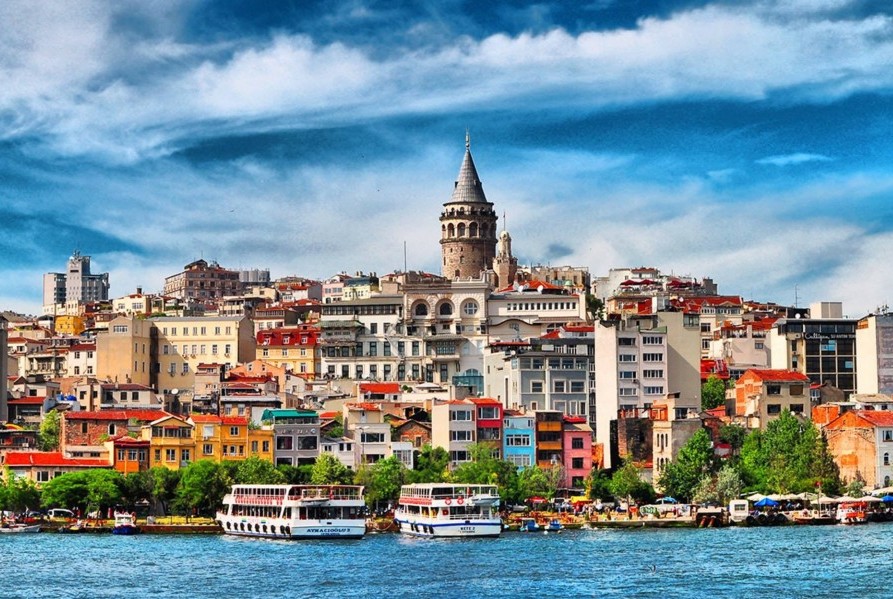 Transfer from Airport to Hostel
2 Night Hotel in İstanbul
Full Day Istanbul City Tour
Night bus from Istanbul to Cappadocia
1 Night Cave hotel in Cappadocia
2 Days Guided Cappadocia Tour
Night bus from Cappadocia to Pamukkale
Guided Pamukkale Tour
Bus from Pamukkale to Kusadasi
1 Night hotel in Kusadasi
Ephesus Guided Tour
Night bus from Selcuk to Istanbul
Half Day Cruise in Istanbul
5 Days Breakfast & Lunch
All entrance fees
Drinks
Dinners
Personal Expenses
Itinerary
Day 1 – Welcome to Turkey!
We will greet you upon arrival at Ataturk airport and transfer you to your hotel for the night in Istanbul. You are free for the rest of the day to explore and orient yourself with the area.
Overnight Istanbul 
Day 2 – Istanbul Highlights Tour
You will be picked up from your hotel lobby after breakfast, at approximately 08:30, after you've had your breakfast at the hotel.
Our first stop is Istanbul's ancient Hippodrome. Your tour guide will give you an overview of the history of the place and all the details of its transformation. Highlights of your wander around the Hippodrome will include the German Fountain and the Obelisk of Theodosius and the Walled Obelisk.
Next up is a visit to the beautiful Blue Mosque. Officially known as the Sultan Ahmet Mosque, the Blue Mosque get its nickname from its magnificent blue tiles and breath-taking interior design. (Please note that women will be required to cover their hair whilst inside and both men and women should wear pants / skirts that are below the knee and have their shoulders covered as a mark of respect – coverings are provided at the entrance to the mosque).
We will move on to Hagia Sophia (Aya Sofia in Turkish), world-renowned for its history of being a church and then later being converted to a mosque.  It is also considered one of the world's great architectural feats. You will be enthralled as your guide explains about the history and uniqueness of the the beautiful Hagia Sophia.
By now you will be getting hungry, so we will head to a local restaurant where you can taste some Turkish cuisine.
Next stop is at Topkapi Palace, former home of the Ottoman sultans, and centre of the Ottoman court. (Please note that Topkapi Palace is closed on Tuesdays and so this visit will be replaced with a visit to the Underground Basilica Cistern which was used to store the city's water in the Roman & Ottoman eras.)
At the end of your tour you will be dropped back at your hotel (approximately 17:00).  You will be picked up from your hotel at 18:30 to go to the bus station for your overnight bus from Istanbul to Cappadocia at 20:30.
Day 3: Cappadocia Guided Tour 1 (North Cappadocia)
You will arrive in Goreme early in the morning. Upon arrival you will be greeted and taken directly to meet your tour group for today's day tour exploring some of the valleys of Cappadocia.  Tip:  We recommend you wear comfortable walking shoes or trainers today, and it's a good idea to bring a hat and sun cream.
Today you will be amazed as you explore this UNESCO World Heritage-listed area – listed under as "Goreme National Park and the Rock Sites of Cappadocia".
The area is unlike any other you've ever seen. Cappadocia's rock formations are soft and show off many colors, as a result of several volcanic eruptions that spewed different types of minerals across the region. Forces of nature such  have led to the formation of several valleys across the millennia, and the creation of phallic-shaped rocks known as fairy chimneys.
On this tour you will visit Goreme Open Air Museum, Uchisar castle (the highest point in the region), Paşabag fairy chimneys, Zelve, Avanos and a wine tasting in Urgup.
Your tour will finish at approximately 17:00 and you will be taken back to your cave hotel in Cappadocia.
Check-out tomorrow.
Optional: Tonight we recommend a  'Whirling Dervishes' ceremony and 'Turkish Night' with open buffet dinner offering as many dishes and drinks as you wish while you enjoy belly dancers and other folklore shows.
Recommended activity for tomorrow morning is flying in a hot air balloon at sunrise. It's a mesmerizing experience. It's an early wake up, but totally worth it!
If you wish to book Turkish Night ceremony for tonight or a Hot Air Balloon Flight for tomorrow morning please contact us in advance so that we can guarantee your tickets and arrange a pick-up service.
Overnight Cappadocia (cave hotel) (L)
Day 4: Cappadocia Guided Tour 2 (South Cappadocia)
Good morning! It's your second day in magical Cappadocia, and today there is lots for you to see.
After breakfast, pack your bags and check out of the hotel.  Be ready in the lobby by 9:30am when you will be picked up from your hotel.
Today's tour involves a visit to Derinkuyu Underground City, the almost 3000 year old labyrinthine underground city, and the deepest of the area's 40 underground cities. This was where the region's Christians fled to hide from persecution. You will also visit beautiful Ihlara valley, Belisirma Village and Agzıkarahan caravanserai.
The tour will take around 8 hours and afterwards we will take you to Goreme bus station, where you will catch your night bus to Pamukkale at 19:30. You will be given your bus ticket by your tour guide during the day.
Overnight: night bus (B, L)
Day 5: Pamukkale Hierapolis Tour
You will arrive at Denizli bus station early in the morning, where our driver will be waiting to meet you with your name written on a sign.
It's a new day, and brand new experiences await you in Pamukkale, whose famous white travertines are often described as resembling crystallized cotton or a frozen waterfall.  Pamukkale is just a 20 minute drive from Denizli. You'll have some time to stretch your legs and freshen up before start your Pamukkale tour at 09:30.
Pamukkale and Hierapolis were both World-Heritage listed by UNESCO in 1988.  Together, they are one of the most attractive destinations to travel to in the globe for a lovely relaxing thermal bath and soak up Roman and Byzantine history.
Today's tour starts with a visit to the Red Springs in the nearby village of Karahayit – the water here runs at approximately 60 degrees celsius, and are coloured red because of their high iron content.
Other highlights will include a tour of the ruins of the ancient Roman city of Hierapolis with an impressive necropolis (graveyard), a majestic theatre, the Temple of Apollo, the Sun God (the most important god of the city), Latrine, Agora, the Gymnasium and more.
Today you will also have the chance to take a walk in the magnificent Travertine pools of Pamukkale. You'll also have a chance to lie back and relax in these calcium pools and swim over fallen Roman columns in the thermal waters of  Cleopatra's antique pool (admission extra).
Your tour finishes with a late lunch, and then at 16:00 you will travel by bus to Kusadasi. It's a three hour drive through scenic countryside, with a comfort stop at the halfway point. On arrival in Kusadasi you will be dropped at your hotel door.
Overnight Kuşadası (L)
Day 6: Guided Tour of Ephesus
Good morning! You will be picked up from your hotel at 09:00, and today it's time to visit Ephesus which is renowned for being the best preserved city of classical antiquity on the Mediterranean. In terms of ruins, it is even better than Rome itself. If you love history and want to get a feel for how life was 2000 years ago, you will be in heaven today. You will also visit one of the Seven Wonders of the ancient world, the Temple of Artemis.
After the Ephesus Open Air Museum, we will move on to visit Virgin Mary's House which is also of religious importance for Christians and Muslims alike.  This is said to be the place where Mary was brought by St John to spend the last years of her life.
Your tour ends at around 17:00 and you will be dropped off at Selcuk bus station to wait for your 21:30 bus to Istanbul. This is a great chance to have a wander around the charming town of Selcuk and grab some dinner before your bus.
Overnight:  night bus (B, L)
Day 7: Istanbul Bosphorus Cruise
Your night bus from Selcuk arrives at Istanbul bus station early in the morning. We kindly ask you to make your own way to your hotel.  The metro and tram are nearby, so this is an easy task. Relax in your hotel until 12:00 when we will pick you up for your half-day Bosphorus Tour.
The Bosphorus strait is the body of water connecting The Marmara Sea to the Black Sea, and dividing the continents of Europe and Asia. This makes Istanbul one of the most important cities in the world. you will love your cruise on Bosphorus which will give you a great perspective of Istanbul, and plenty of beautiful sights to see along the way.
The cruise will end at around 17:00, after which you will be transferred to your hotel.
Overnight:  Istanbul
Day 8: Packing Day / Departure
After breakfast, check out from your hotel. (Note:  you always have the option of staying longer by adding extra nights accommodation at an additional charge. Airport shuttle also available at an additional charge).
It has been a great pleasure for us to show to you some of the beauties of Turkey. We hope you had a great time traveling with us on our Turkey Backpackers Tour  and we hope to see you again on one of our tours in the future. Thank you for travelling with us.
(B)
Per Person in a dorm room: 495 Euro
Single Room: 575 Euro
Per Person in a Double or Twin Room: 445 Euro
Hotel Options


Dedeli Konak Cave Hotel in Cappadocia

Pay & Confirm
Enquiry From