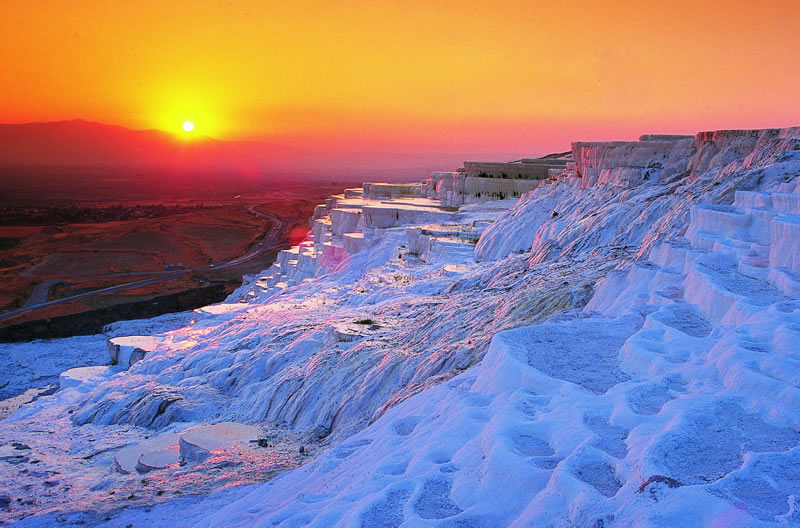 3 nights hotel in Istanbul
1 night hotel in Canakkale
3 nights hotel in Kusadasi
1 night hotel in Pamukkale
2 nights hotel in Cappadocia
10 breakfast and 5 lunches
Guided Istanbul City Tour
Guided Gallipoli tour
Guided Troy tour
Guided Ephesus tour
Guided Turkish Village Sirince
Guided Pamukkale tours
Guided 2 different Cappadocia tours
All transfer services to and from bus service
All entrance fees mentioned in the itinerary
Transportation in a fully air-conditioned, non-smoking coach
Professional English-speaking tour guides
Drinks
Itinerary
12 Days Turkey Bus Tour Itinerary
1. Day: Arrival in Istanbul
Welcome to Turkey!
Today is the first day of your bus tour in Turkey. We meet you and make your transfer to your hotel. Check in to your hotel and get key of your room.Overnight stay in İstanbul.
2. Day: Istanbul Classical Tour
(Breakfast)
Good Morning! Your tour guide and driver are waiting at the lobby to take you for your Istanbul's Highlights Tour.
Today's programme will start by visiting the ancient Hippodrome where you will get to know all details of its transformation, the obelisks and functions during history.
The Hippodrome is hand by hand with world-famous Blue Mosque so we will be entering the Blue Mosque after our Hippodrome Tour.
Sultanahmet is named by its visitors as Blue Mosque because of the magnificent tiles and breathtaking decoration inside. You will have a fully guided tour here.
The next stop is Hagia Sophia, which is one of the must-see places in the world, not just Turkey. The whole story and history of the Hagia Sophia church-mosque-museum will be presented by your guide.
Your guide will take you for a lunch in a very good local restaurant. Here you will have the chance to talk and make critics about your tour and to get some rest for next place to visit, The Underground Basilica Cistern. Which was the water-warehouse for Roman's & Ottoman's Istanbul.
The driver will pick you up after your fully guided Basilica Cisterna Tour and take you to your hotel.
We wish you a nice and comfortable night.Overnight stay at hotel.
3. Day: Gallipoli Battlefields Tour
(Breakfast)
After breakfast we depart very early for our tour in Gallipoli. Gallipoli is called Çanakkale in Turkey and that was one of the highlights of World War I. One of the biggest tragedies of the humanity happened here and around half a million people from different cultures-languages-countries all confronted the same end.
Today we will be visiting the main battlefields in Gallipoli area which covers; Chunuk Valley, Anzac Cove, memorial cemetery and many other battlefields and also a local museum which is founded by a farmer living around the harbour.
Lunch will be served during your guided Gallipoli tour and after the tour you will be taken to your hotel. Overnight stay in Çanakkale.Troy Tour – Bus to Kusadasi
4. Day: Troy Tour – Bus to Kusadasi
(Breakfast-Lunch)
After breakfast we will depart for Troy Tour. Troy is one of the famous ancient cities and important towns of Helenistic Culture. Here you will be visiting the ancient city of troy and also will see Trojan Horse.
After the guided Troy tour you will have lunch at a local restaurant and then drive down to Kusadasi for overnight.
On arrival in Kusadasi you will check in to your hotel and enjoy the comfort at your hotel.Ephesus
5. Day: Ephesus Tour & Virgin Mary House Tour
(Breakfast – Lunch)
Today is the time for the tour to a marble white, history long and holy land. One of the best preserved ancient cities in the world : Ephesus and its most important guest Virgin Mary's house are the destination for the tour.
This daily Ephesus tour will be one of the top points of your travel in Turkey and also as one of the Ancient Wonders will get a place in your photo albums.
After the Ephesus tour you will visit the house that Virgin Mary spent her last years in.
Then you will be transferred to Pamukkale, the city of the Cotton Castle.
Overnight in Pamukkale at a thermal hotel
6. Day: Guided Pamukkale Tour
(Breakfast – Lunch)
A bright morning in the world's only cotton castle, Pamukkale. Which has happened after warm tears of the nature, as if the beauty of the white pearl on Cleopetra's chest has been the inspiration for this art work of nature.
Today you will see the ancient city of Hierapolis and Cleopatra's private swimming pool and also walk in the warm calcium rich pools of Pamukkale.
After the Pamukkale tour you will have time to enjoy the thermal waters at your hotel.
Transfer to your hotel and free time at your leisure.
Please note: If you want to swim in Cleopatra pool you will need to pay an entrance fee there. Our guide will assist you with that.Overnight stay at your hotel. Pamukkale – Cappadocia
7. Day: Pamukkale – Cappadocia
Today you will have free time to enjoy your time in Pamukkale until your departure for Cappadocia. Bus to Cappadocia from Pamukkale duration is 10 hours. Our Pamukkale to Cappadocia bus will make stops for refreshment, eating and resting.Overnight in Cappadocia.Cappadocia Highlights Tour 1
8. Day: Cappadocia Highlights Tour 1
(Breakfast – Lunch)
Good morning!
Your guide and driver will be waiting for you at the lobby of your hotel to meet with you after you've had breakfast.
Today is the day to explore must-see places in Cappadocia. The tour will cover Goreme Open air museum, Rock Churches, Uchisar Castle, Rock Castle, Cavusin Old Greece Village, Pasabagı Fairy Chimneys, Avanos Pottery Demonstrations, Devrent Imagination Valley and Ürgüp Wine Tasting.
You will have lunch in a very good local restaurant by having a break on your tour.
After the Cappadocia tour we will take you back to your hotel in Cappadocia. We wish you a nice and comfortable night.Overnight stay at hotel.
9. Day: Cappadocia Highlights Tour 2
(Breakfast – Lunch)
Good morning!
Cappadocia is more than we have seen yesterday so we are having our second Cappadocia tour today by visiting Goreme Panorama, Derinkuyu Underground City, Ihlara Valley, Belisırma Village, Selime Monastery, Uchisar Castle and Pigeon Valley
Today we will have our lunch in another restaurant to taste another dish from Turkish cuisine because visiting a country is not only about sightseeing. We provide you a large experience from history to cuisine of this country.
After the second day Cappadocia tour we will take you back to your hotel for rest.Overnight in hotel.Cappadocia to Istanbul Bus
10. Day: Cappadocia to Istanbul Bus
(Breakfast)
Today we will depart from Cappadocia to Istanbul by bus.
The bus from Cappadocia to Istanbul will depart at 08:00 pm, our team will arrange your transfer to the bus station. Cappadocia to Istanbul by bus duration is 12 hours. On the way to Istanbul from Cappadocia the bus will have enough stops for personal needs.Istanbul Free Time & Bosphorus Cruise
11. Day: Istanbul Free Time & Bosphorus Cruise
(Breakfast)
Today you will have free time untill 14:00 and then we will pick you up for Bosphorus Cruise Tour.
Istanbul is the only city in the world where you can find a mosque, a church and a synagogue standing hand in hand for centuries. And also the only city in the world which is based on two continents: Europe and Asia.
After sailing on river you will step on Asia and drive to highest peak of city for the panoramic views of İstanbul.
We are happy to be with you in your one day tour from Europe to Asia on sea and from Asia to Europe on a bridge!
After the tour we will take you back to your hotel.Overnight in Istanbul.
12. Day: Packing Day- End of The Tour
(Breakfast)
The 12 Days on Turkey Bus tour that we have spent with you gives us a big pleasure, we hope you liked our tours, services, staff and friendship.
We definitely want you to keep us in mind and tell good stories to your friends and families about Tours For Turkey and Turkey.Thank you very much for travelling in Turkey with Tours For Turkey.
Hotel Options



Tripolis Hotel in Pamukkale

Cappadocia Burcu Kaya Hotel
Pay & Confirm
Enquiry From