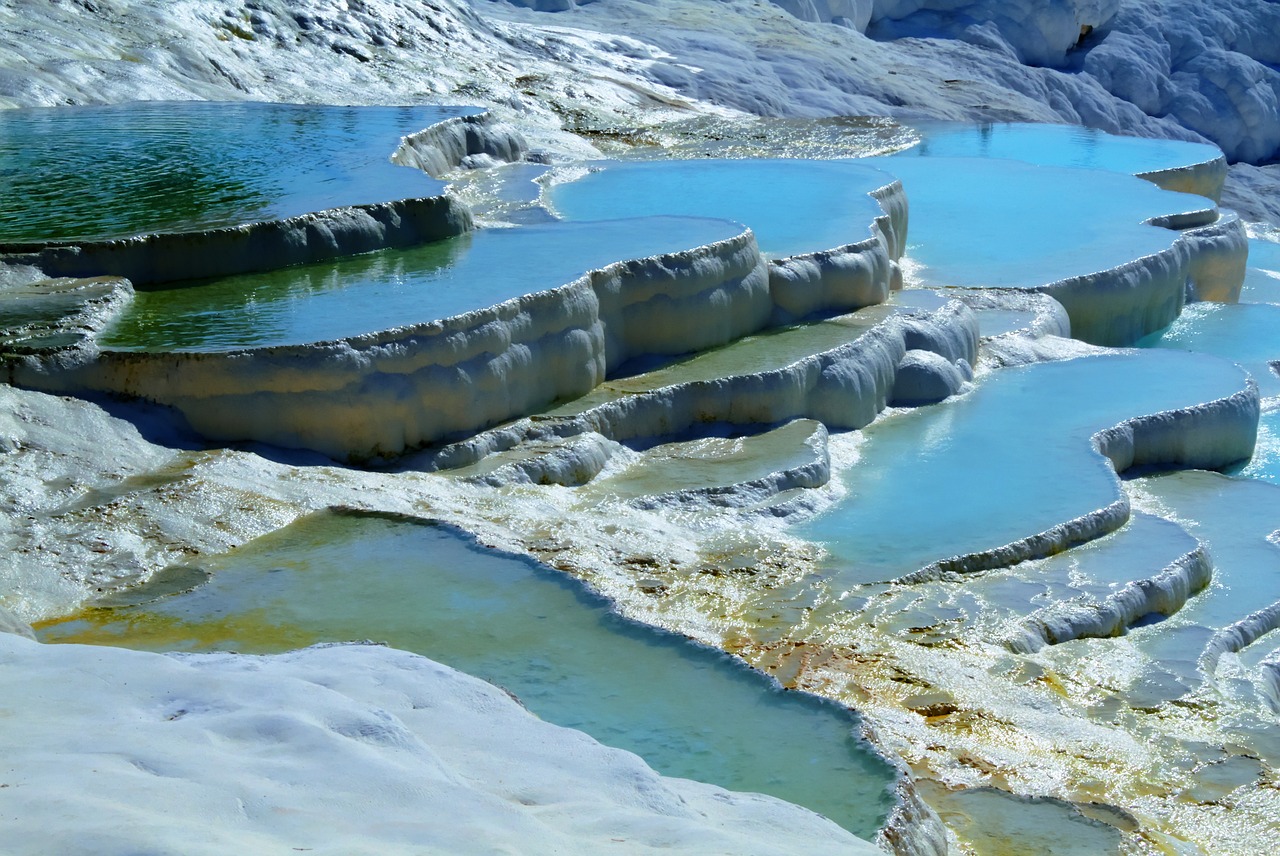 Domestic flight from-to Istanbul-Izmir
Airport –hotelAirport transfers in Istanbul
Airport –hotel transfer Izmir
Hotel Airport transfer in Denizli
Domestic flight from Denizli to Istanbul
Non-smoking vehicles on day tours
Gratuities
Entrance to the Cleopatra Antique Pool in Pamukkale (50TL per person)
Drinks at lunch
Itinerary
Day 1 – Arrival
We will greet you upon arrival in Istanbul airport and transfer you to your hotel. The rest of the day is yours, free to get acquainted with this magical city.
Overnight Istanbul
(-/-/-)
Day 2 – Istanbul Old City Tour
Pick up from your Istanbul hotel at approximately 09:00 for your Istanbul Old City Tour. Highlights today will include the Blue Mosque, Hagia Sophia, the Hippodrome and Topkapi Palace.
After the tour, you will be transferred back to your hotel to spend the night.
Overnight Istanbul
(B/L/-)
Day 3 – Bosphorus Cruise Tour in Istanbul
Pick up from your hotel at approximately 08:10am for your Bosphorus Cruise and Spice Bazaar tour. The cruise will be undertaken by public ferry and will take you along the shores of the Bosphorus Strait, the body of water that connects the continents of Europe and Asia.
On this tour you will enjoy learning about the history of the Spice Bazaar, the herbs and spices, receive a detailed lecture about Ottoman Palaces, houses, churches, graveyards, mosques and mansions along the river.
After the tour you will be transferred to Istanbul Airport for your flight to Izmir, another big city on your 7-Day Turkey Tour. You will be greeted upon arrival in Izmir airport ad transferred to your hotel in the harbour town of Kusadasi where you will spend the night.
Overnight Kusadasi
(B/-/-)
Day 4 – Guided Ephesus-Selcuk Tour / Bus Ride to Pamukkale
Today you will be visiting one of the world's most famous ancient cities, Ephesus. You will be picked up at your hotel at approximately 08:45. After visiting the ruins of Ephesus, we will visit the House of the Virgin Mary, the place where it is believed she spent the last years of her life.
After the tour we will arrange your bus to Pamukkale. After a 3-hour bus ride you will arrive in Pamukkale and we will transfer you to your hotel to stay for the night. (Please note that in the off season, the bus may not run if there are insufficient numbers, and so you will catch a train to Denizli instead. In this case we will meet you at Denizli train station and transfer you to Pamukkale).
Recommended Activity Tours for Tomorrow in Pamukkale
Sunrise Hot Air Balloon Flight in Pamukkale available for 130 Euro
Paragliding in Pamukkale for 60 Euro
Overnight Pamukkale
(B/L/-)
Day 5 – Pamukkale Tour & Hierapolis Tour
Pick up from your hotel at 09:30 for your Pamukkale tour which will include a visit to the ancient city of Hierapolis, including its majestic theatre. Free time will be given at the Cleopatra Antique Pool (entrance an additional 50TL) where you will have the opportunity to swim over ancient ruins and experience the soothing thermal waters.
Your tour guide will explain to you about the geological structure and the processes of Pamukkale calcium terrace, listed as a World Heritage site by UNESCO and about the history and culture of Hierapolis in ancient times.
Your tour will finish with a visit to the travertines, the famous "cotton castle" which looks like a frozen waterfall cascading down the side of the hill. We finish the tour with a late lunch.
Overnight Pamukkale
(B/L/-)
Day 6 – Flight From Denizli to Istanbul
Today you will fly from Denizli to Istanbul, we arrange the transfer from hotel to the airport. Upon arrival, you will be greeted and taken to your hotel.
After hotel check-in, the rest of the day is yours to enjoy.
Overnight Istanbul
(B/-/-)
Day 7 – Departure
Breakfast at the hotel. Check out by midday. You will be able to leave your bags at the hotel until it is time for your departure transfer. You will be picked up from your hotel approximately 4.5 hours before your departure flight time, depending on the time of day of your flight.
Thank you for choosing Tours 4 Turkey to plan your Turkey tour.
We wish you a safe trip back home and hope to see you again in the future in one of our tours. Gule Gule… (Goodbye)
(B/-/-)
Hotel Options



Pay & Confirm
Enquiry From