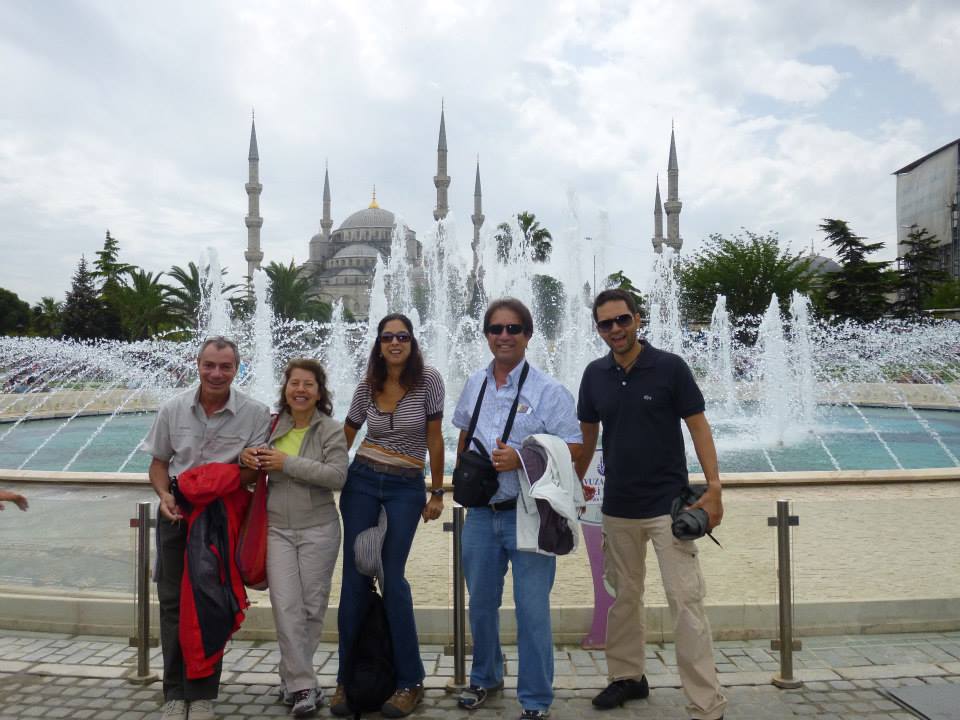 Transfers
Return airport transfers in Istanbul
Return airport transfers in Cappadocia (Kayseri)
Return airport transfers in Ephesus (Izmir)
Domestic flight from Istanbul to Cappadocia
Domestic flight from Cappadocia to Ephesus
Domestic flight from Antalya to Istanbul
Fully guided Istanbul's Highlights Tour
Fully guided Bosphorus Cruise Tour
Fully guided 2 different Cappadocia Tours
Fully guided Ephesus Tour
Fully guided Virgin Mary's House Tour
Fully guided Pamukkale Tour
Fully guided Hierapolis Tour
Fully guided Antalya Tour
Bus from Pamukkale to Antalya
11 Breakfasts
8 Lunches
Professional licenced tour guides
Fully private transportations
Airport welcoming reception
Entrance Tickets
Entrance to all visiting places
All accommodations mentioned on itinerary
Drinks
Itinerary
1.Day: Arrival to Istanbul / Turkey
We welcome you to Istanbul, the sublime capital of Turkey, where many different nations with different cultures have lived together hand-in-hand history long.
Upon arrival in Istanbul airport, you will be greeted by our team members who will transfer you to your hotel and help you with check-in procedure. You will meet your tour guide in the hotel lobby. He or she will give you a briefing about the itinerary and the tour plan. The rest of the day is yours to enjoy Istanbul or relax at your hotel for your tour of Istanbul highlights tomorrow.Overnight stay in Istanbul
Your tour guide will let you know the exact pickup time from the lobby for tomorrow.
Note: If you wish to have a dinner cruise in Istanbul please inform us in advance to confirm
2.Day: Istanbul's Highlights Old City Tour
Breakfast(@ hotel) – Lunch included
It's a bright morning in Istanbul and we are going to visit some of the most magnificent artworks of history. After breakfast you will meet your tour guide in the hotel lobby to start your Istanbul's Highlights Tour.
The first place on your tour today is the ancient Hippodrome. While visiting the place you will learn about the history of the place and all details of its transformation, obelisks and functions.
In the next part of the tour we will enter Blue Mosque, the Hippodrome's neighbor. Blue Mosque gets this nickname from the magnificent tiles and breath-taking interior architecture.
We will move on to Hagia Sophia (Aya Sofia in Turkish), world-renowned for its history of being a church, a mosque at the same time. Your guide will explain about the history and uniqueness of Hagia Sophia.
You must be getting hungry now, so we drive to a local restaurant where you can taste the Turkish cuisine.On lunch you can always make comments with other minds on the tour about your visits while enjoying the food.
Our next stop is the Underground Basilica Cistern which used to be the water-warehouse in Roman& Ottoman era of Istanbul.After this visit, your driver will pick you up to take you back to your hotel where you spend the night. Have a comfortable night's sleep.Check-out tomorrow. Please note that tomorrowbefore it is time for us to do your transfer to airport for your flight to Cappadocia, you will have some free time to enjoy. Overnight Hotel in İstanbul
3.Day: Travel to Cappadocia by flight
Breakfast (@ hotel) included
Good morning! Today after checking out from hotel you will be picked up by our driver and tour guide who will transfer you to the airport for your flight to Kayseri.
Upon arrival in Kayseri airport you will be greeted by our team members. You will be taken to your cave accommodation and our tour guide will explain to you about your tour in Cappadocia. You will have free time to enjoy on your own or to simply rest at your hotel.
The recommended activity for tonight is 'Whirling Dervishes' ceremony and 'Turkish Night' with open buffet dinner offering as many dishes and drinks as you wish while you enjoy belly dancers and other folklore shows. If you wish to book for tonight please contact us in advance and we will arrange your tickets and pick-up service.We wish you a comfortable night at your exquisite cave hotel. Overnight cave hotel in Cappadocia
4.Day: Cappadocia's Highlights Tour 1
Breakfast (@ hotel) & lunch included
This is your first morning in Cappadocia and we would like to welcome you to this amazing place. If you want to enjoy it to the fullest we recommend you fly with the most trusted pilots at sunrise in a hot air balloon over and through the unique landscapes of Cappadocia. If you are interested please contact us in advance so that we can guarantee a place for you at sunrise flight.
At 09:30 your tour guide and driver will arrive to pick you up from your hotel for your first tour Cappadocia. The tour will cover Goreme Open air museum, Uchisar Castle,Rock Churches,Rock Castle, Cavusin Old Greek Village,Paşabağ Fairy Chimneys, Avanos Pottery Demonstrations,Devrent(Imagination) Valley and finally Ürgüp Wine Tasting.On the tour you will have lunch in a well-respected local restaurant to taste another traditional recipe. You will be transferred back to your hotel at the end of the tour.Enjoy the hospitality at your cave hotel. We wish you a nice stay for the night. Overnight @ Cave hotel in Cappadocia
5.Day: Cappadocia's Highlights Tour 2
Breakfast (@ hotel) & Lunch included Good morning!Cappadocia is so vast with so many amazing landscapes that we have to go for another round of a tour to have seen at least the most famous beauties of it.
Today you will have the chance to visit Goreme Panorama,Derinkuyu Underground City,Ihlara Valley,Belisırma Village,Selime Monastery, Uchisar Pigeon Valley.
Today we will have our lunch in another local restaurant to taste another dish from Turkish cuisine because tasting a country's cuisine is part of the travel. After the tour you will be heading to your hotel with our driver. Enjoy the serenity at your cave accommodation.
Overnight @ Cave hotel in Cappadocia
6.Day: Travel from Cappadocia to Izmir (Ephesus)
Breakfast (@ hotel) & lunch included
It's another cheerful morning in Cappadocia and we are going to say farewell and take your leave on a plane to Izmir. Check out from your hotel and our team members will arrange your transfer to the Kayseri airport for your domestic flight.
Upon arrival in Izmir we will greet you and transfer you to your hotel in Kuşadası. Tomorrow we will go to one of the most important tourist resorts of the whole country, Ephesus.The rest of the day is yours to enjoy the harbour in Kusadasi. Overnight @ hotel in Kusadasi
7.Day: Virgin Mary House & Ephesus Tour
Breakfast (@ hotel) & lunch included
We'll visit Ephesus today. Ephesus is well known as the best preserved city of classical antiquity on the Mediterranean. In terms of ruins, it is even better than Rome itself. If you love history and appreciate having a sense of how life was 2000 years ago, you will be in heaven today.Temple of Artemis is also on your list of visited places today, being one of the seven wonders of the ancient world, it guarantees an unforgettable memory from Turkey to take home.Virgin Mary's House is the next destination for the tour which is also of high religious importance. It is said to be the place where Saint Marywas brought to by one of the apostle to spend the last years of her life.
After the tour, we will leave for Pamukkale, the city of Cotton Castle. On arrival to Pamukkale check inn to hotel .
Overnight @ Hotel in Pamukkale.
Optional activities for tomorrow :
Hot Air Balloon Flight at Sunrise in Pamukkale
Paragliding Above Pamukkale
8.Day: Hierapolis & Pamukkale Tour
Breakfast (@ hotel) & lunch included
It's a new day for a brand-new experience in a Pamukkale natural site. The unique natural formations of Pamukkale resemble nothing so much as crystallized fields of cotton. It's not until you step in thermal waters ankle deep that you realize Pamukkale is nothing like you've ever seen or experienced in your life.
Today you are going to have the chance to take a walk in the magnificent Travertine Terraces of Pamukkale and it's like you are walking in a snow-covered glittering land under the summer sun.
Relax and lie back in Calcium-rich pools. You even will be able to swim in Cleopatra's private pool.
Besides, you can visit the adjacent city of Hierapolis with the majestic theatre, the Temple of Apollo, the Sun God, the most important god of the city, Latrine, Agora, the Gymnasium and more.
Pamukkale and Hierapolis both have been recognized as World Heritage by UNESCO in 1988. Together, they have created one of the most attractive destinations to travel to in the globe for a lovely relaxing thermal bath and a explore the splendor of Roman and Byzantine history.
After the tour keep enjoying the thermal therapy at your hotel.
Overnight @ Hotel in Pamukkale .
9.Day: Pamukkale to Antalya
Breakfast (@ hotel) & lunch is not included
09:00 am we will pick u up from your hotel to bus station
10:00 am Bus from Denizli to Antalya
On arrival to Antalya after 4 hours bus ride ,our driver will be waiting for you at bus station
He will transfer you to your hotel.Overnight hotel in Antalya
10.Day: Antalya City Tour
Breakfast (@ hotel) & lunch
09:00 am Pick up from hotel for full day Antalya highlights guided tour.
Overnight hotel in Antalya
11.Day: Flight to Istanbul & Afternoon Bosphorus Cruise Tour in Istanbul
Breakfast (@ hotel) & lunch is not included
Good morning!
This morning after you've had breakfast we will transfer you to the Antalya airport for your flight to Istanbul.Upon arrival you will be greeted and transferred to your hotel for check-in.
You have seen the most beautiful splendid sites of Turkey . Now we are back in Istanbul to have yet another memorable tour, this time on theBosphorus strait connecting Europe and Asia. Bosphorus is a strait connecting Sea of Marmara to the Black Sea. Travelers have never failed to celebrate the significance and splendor of Bosphorus waterway dividing the lands of two continents and connecting their cultures at the same time.
Today you will cruise on this beautiful waterway and look at the beautiful shore and get a panoramic review of history and art in Istanbul. The houses, palaces, pavilions and gardens on shores will give you a great feeling.
We will also get up the Camlica Hill which is the most elevated part of the city which gives you a peaceful panoramic view of the land and the waters of Istanbul. There you will have lunch. After the tour ends we will transfer you to your hotel. Overnight hotel in istanbul .
12.Day: Packing Day / Good by Turkey .Hope to see you again
Breakfast (@ hotel)
Thank you for giving us the opportunity to serve you with our 12-day Turkey tour. It gives us great pleasure that you have chosen us as your Turkey travel planner. We hope you liked your tour, services and our friendship.
We hope you will share the nice memories of your travel with us with yo
Hotel Options


Cappadocia Burcu Kaya Hotel



Pay & Confirm
Enquiry From