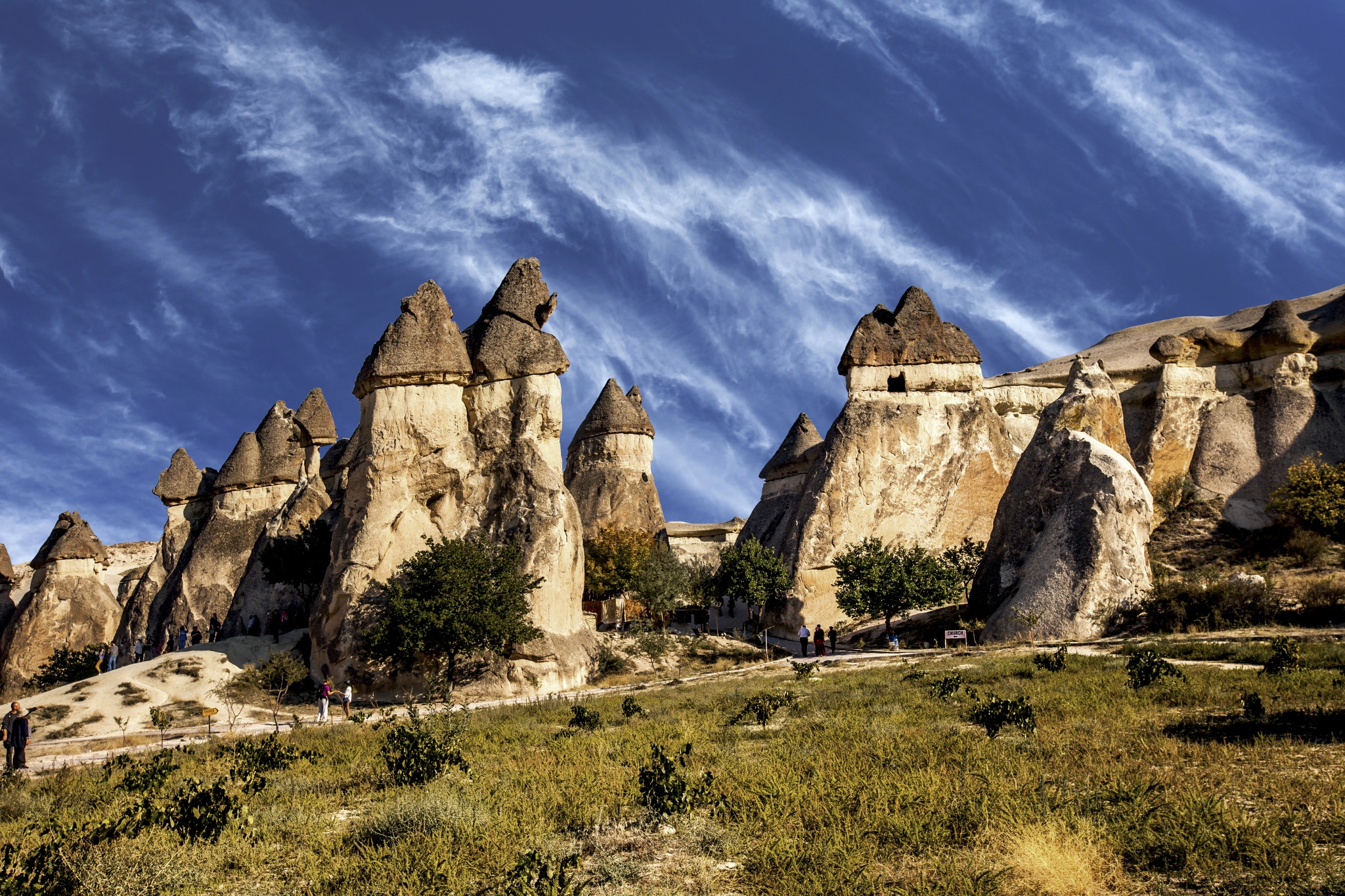 Transfer from your hotel to airport in Istanbul
Flight from Istanbul to Kayseri
Transfer from Kayseri Airport to Cappadocia
2 days guided Cappadocia tour
1 night special class cave hotel in Cappadocia
2 days lunch
1 Breakfast
Admission fees
All transport in air-conditioned, late-model vehicles
Transfer from Cappadocia to Kayseri airport
Flight ticket from Kayseri to İstanbul
Transfer from İstanbul airport to your hotel in İstanbul
Drinks
Dinner
Gratuities
Itinerary
Istanbul to Cappadocia / Cappadocia Red Tour
It's an early start this morning, but we promise you it will be worth it!  We'll pick you up from your hotel in Istanbul at 05:00am, then transfer you to the airport for your 7:00am flight to Cappadocia.
You'll arrive at Kayseri airport at approximately 8:15am where you will be met by our driver then transferred to meet the rest of your tour group.
On arrival in Cappadocia, we will store your luggage at our office, while you depart for your tour.
Our first stop of the day will be at the UNESCO World Heritage-listed Göreme Open Air Museum which was once a Byzantine monastic settlement comprised of more than 10 churches, rectories, accommodation and a theological school. You'll be amazed at the tiny churches carved into the rocks and decorated with frescoes, many of which are in good condition.
Our second stop will be Paşabağ Valley, also called the Monks Valley, home to some of the best examples of mushroom-shaped fairy chimneys. This valley was previously home to a settlement of monks, and today you can climb up into one of the fairy chimneys and see part of their former quarters.
We then drive to Devrent Valley, also known as "Imagination Valley", where some of the most surreal rock formations can be found, many of them shaped like animals.  See if you can spot the camel, snake, seal and dolphin-shaped rocks.
We will have lunch at a local cave restaurant in the town of Avanos, which is famous for its pottery. After a tasty lunch of traditional Turkish cuisine, we will visit a local family-run pottery workshop for a kick-wheel pottery demonstration.
Our last stop will be Uçhisar Castle & Pigeon Valley. Uçhisar is the highest point in Cappadocia.  This is a great opportunity to get some great panorama shots of Cappadocia and the fairy chimneys.
After the tour, we'll pick up your luggage from our office, then we will drop you back at your hotel.
Note:  Tomorrow morning we recommend you take up the opportunity for an optional hot air balloon flight.  It's a once in a life time experience, so make sure you let us know if you are interested, so you don't miss out on a place!
Optional sunrise hot air balloon flight.  You'll be back at your hotel in time for breakfast which is served from 7:00am at your hotel.
Please make sure you have had your breakfast and ready to check out by 9:15 because we will pick you up at approximately 9:30am. You'll be able to store your luggage at the hotel today while you are on tour.
Our first stop of the day will be Esentepe, a popular spot for enjoying a panoramic view of Göreme and its fairy chimneys and unique rock formations.
We will then drive to Derinkuyu Underground City, one of the deepest of Cappadocia's many underground cities which includes rooms such as stables, cellars, chapels and wineries. You'll be impressed as you wander through this underground city, built by early Christians fleeing from persecution.
We then drive to Ihlara Valley where we will hike a section of the valley, checking out the tiny churches cut into the rock, along the way.  We will then have some chill time and lunch at Belisirma Village.  We will also visit Selime Monastery, the biggest rock-cut cathedral in Cappadocia.
Our last stop is at Pigeon Valley where you will have a great photo opportunity, then we will drop you back at your hotel.
After the tour we will drive back to your hotel to pick up your luggage, then we will transfer you to Kayseri Airport for your flight back to Istanbul.
On arrival in Istanbul, our driver will meet you and transfer you to your hotel in Istanbul.
We hope you had a great time with us during your 2 day tour of Cappadocia, and we hope to welcome you on another tour one day soon.
Hotel Options

Dedeli Konak Cave Hotel in Cappadocia
Pay & Confirm
Enquiry From