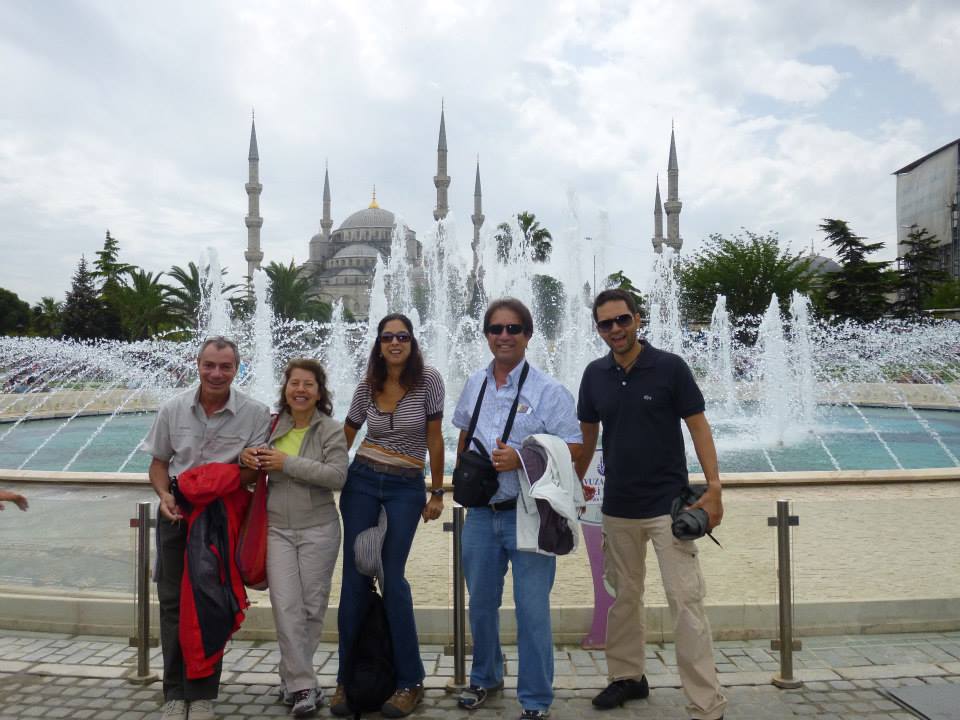 Return airport transfers in Istanbul
Return airport transfers in Cappadocia (Kayseri)
One-way airport transfer in Ephesus (Izmir)
Domestic flight from Istanbul to Cappadocia
Domestic flight from Cappadocia to Ephesus (Izmir)
Domestic flight from Denizli to Istanbul
Fully guided Istanbul Highlights Tour
Fully guided Bosphorus Cruise & Spice Bazaar Half Day Tour
Fully guided Cappadocia Tours (2 Days)
Fully guided Ephesus & Virgin Mary's House Tour
Fully guided Pamukkale & Hierapolis Tour
9 Breakfasts
5 Lunches
Professional licenced tour guides
Transport in comfortable, late-model vehicles
Entrance Tickets to all sites listed in the itinerary
Drinks
Dinners
Personal expenses
Gratuities
Itinerary
Day 1 – Arrival in Istanbul
Welcome to magical Istanbul, where people from many different cultures have lived together side by side throughout history.
You'll be met by one of our team in Istanbul airport, and transferred to your hotel.  The rest of the day is yours to relax and explore.  Please note that we will leave a message at your hotel to confirm your pick up time for tomorrow.
Overnight Istanbul
Note: If you wish to have a dinner cruise in Istanbul tonight, please let us know in advance.
Day 2 – Istanbul Highlights Old City Tour
Pick up at approximately 08:30 for your Istanbul Old City Tour. Our first stop is Istanbul's ancient Hippodrome. Your tour guide will give you an overview of the history of the place and all the details of its transformation. Highlights of your wander around the Hippodrome will include the German Fountain and the Obelisk of Theodosius and the Walled Obelisk.
Next up is a visit to the beautiful Blue Mosque. Officially known as the Sultan Ahmet Mosque, the Blue Mosque get its nickname from its magnificent blue tiles and breath-taking interior design.
We will then move on to Hagia Sophia (Aya Sofya in Turkish), renowned for its history of being a church and then later being converted to a mosque. It is also considered one of the world's great architectural feats. You will be enthralled as your guide explains about the history and uniqueness of the beautiful Hagia Sophia. Lunch will be at a local restaurant where you can taste some traditional Turkish cuisine.
After lunch we will visit Topkapi Palace, former home to the Ottoman Sultans. We will also visit the bustling Grand Bazaar – home to more than 4,000 shops selling traditional Turkish wares as well as a number of artisans. At the end of your tour you will be dropped back to your hotel
Please note that Topkapi Palace is closed on Tuesdays and the Grand Bazaar is closed on Sundays.
Overnight Istanbul
(B, L)
Day 3 – Flight to Cappadocia
Breakfast, and then check out from your hotel.  You will be picked up by our driver, and transferred to the airport for your flight to Kayseri, one of the two gateway airports to Cappadocia.
On arrival in Kayseri you will be met by one of our team members and driven to your cave hotel accommodation.  Free afternoon to explore or simply rest and enjoy the magnificent scenery.
Overnight Cappadocia
(B)
Optional activity for tonight:
Turkish Night & Whirling Dervishes Ceremony with Dinner 45 Euro per person – tonight we recommend you take the opportunity to go to a 'Whirling Dervishes' ceremony and 'Turkish Night'. You'll enjoy an open buffet dinner offering as many dishes and drinks as you wish while you enjoy belly dancers and other folklore dances. If you wish to book for tonight please contact us in advance and we will arrange your tickets and pick-up service.
Optional activity for tomorrow morning :
Hot Air Balloon Flight at Sunrise in Cappadocia for 190 Euro per person.
Day 4 – Highlights of Cappadocia Tour 1
At 09:30 your tour guide and driver will arrive to pick you up from your hotel for your first tour of Cappadocia. Our first stop of the day will be at the UNESCO World Heritage-listed Göreme Open Air Museum which was once a Byzantine monastic settlement comprised of more than 10 churches, rectories, accommodation and a theological school. You'll be amazed at the tiny churches carved into the rocks and decorated with frescoes, many of which are in good condition.
Our second stop will be Paşabağ Valley, also called the Monks Valley, home to some of the best examples of mushroom-shaped fairy chimneys. This valley was previously home to a settlement of monks, and today you can climb up into one of the fairy chimneys and see part of their former quarters.
We then drive to Devrent Valley, also known as "Imagination Valley", where some of the most surreal rock formations can be found, many of them shaped like animals.  See if you can spot the camel, snake, seal and dolphin-shaped rocks.
We will have lunch at a local cave restaurant in the town of Avanos, which is famous for its pottery. After a tasty lunch of traditional Turkish cuisine, we will visit a local family-run pottery workshop for a kick-wheel pottery demonstration.
Our last stop will be Uçhisar Castle. Uçhisar is highest point of the Cappadocia.  This is a great opportunity to get some great panorama shots of Cappadocia and the fairy chimneys. After the tour you will be dropped back at your hotel.
Overnight Cappadocia
(B, L)
Day 5 – Highlights of Cappadocia Tour 2
Good morning! Cappadocia is so vast with so many amazing landscapes that today you will go on another day tour to make sure you have covered the most famous of its beauties.
Pick up from your hotel at approximately 09:30. Your first stop of the day will be Esentepe, a popular spot for enjoying a panoramic view of Göreme and its fairy chimneys and unique rock formations.
We will then drive to Derinkuyu Underground City, one of the deepest of Cappadocia's many underground cities, and built by early Christians fleeing from persecution.  Including rooms such as stables, cellars, chapels and wineries, you'll be impressed as you wander through this underground city.
We then drive to Ihlara Valley where we will hike a section of the valley, checking out the tiny churches cut into the rocks, along the way.  We will then have some chill time and lunch at Belisirma Village before heading to Selime Monastery, the biggest rock-cut cathedral in Cappadocia. Drop back to your hotel at the end of the tour.
Overnight Cappadocia
(B,L)
Day 6 – Cappadocia to Izmir (Ephesus)
You will be picked up after breakfast and transferred to Kayseri Airport for your flight to Izmir. (Please note that depending on the season, your flight may be a direct flight, or you may fly through Istanbul). Upon arrival in Izmir, we will greet you and transfer you to your hotel in . Tomorrow you will visit Ephesus, one of the most important historical sites in Turkey. The rest of the day is yours to enjoy the charming port town of Kuşadası.
Overnight Kuşadası
(B)
Day 7 – Ephesus Tour
Breakfast at your hotel. Today you will be picked up at approximately 8.30am for your tour of Ephesus – one of the best preserved ancient cities in the world. If you love history and appreciate having a sense of what life was like 2000 years ago, you will be in heaven today. Other sites you will visit today include the Temple of Artemis, one of the seven wonders of the ancient world and Virgin Mary's House which is believed to be the place that she was brought by John, and the place where she spent her last days. After the tour, you will be dropped at the bus station for your bus to Pamukkale. We will meet you at the bus station and drive you to your hotel. Free evening.
Overnight Pamukkale
(B, L)
Optional activities for tomorrow :
Hot Air Balloon Flight at Sunrise in Pamukkale
Day 8 – Pamukkale & Hierapolis Tour
It's a new day for a brand-new experience in Pamukkale – home of one of Turkey's great natural wonders. The unique, UNESCO World Heritage-listed natural formations of Pamukkale resemble crystallized fields of cotton, which is how this site got its' name of Pamuk (Cotton) -kale (Castle).
We'll start our tour by visiting the red springs in the nearby village of Karahayit, where the waters are a rusty-red colour because of the high iron content of the water.
We then drive to the North gate of the UNESCO World Heritage-listed ancient Roman spa town of Hierapolis and start our tour.  In ancient times, Hierapolis was a highly regarded place for healing, because of the reported therapeutic benefits to be had from bathing in its thermal waters.  People travelled from all over the Roman Empire for healing treatments here.
As you wander around the ruins with your tour guide, you will see highlights such as the necropolis (graveyard), one of the biggest in the region, with over 1500 graves, the Roman bath, the theatre and the Agora (ancient market).  You'll also hear stories of some of the famous characters from history who visited or lived here including Cleopatra and St Philip, whose tomb is on top of a hill, outside the north-eastern section of the city walls, and which you will be able to see from a distance.
We'll then take a break at the Cleopatra Antique Pool where the water is a pleasant 36 degrees Celsius and filled with invigorating minerals.  Here, you have the chance to swim over Roman columns which believed to have fallen into the water during an earthquake.  Please note that entrance to the swimming pool is an additional 32TL per person, payable at the site.
Your guide will give you free time to paddle in some of the pools as you wander down the hill to Pamukkale's natural park and lake. You will then meet your tour guide for a late lunch.  After lunch you will have the chance for a no-hassle, obligation-free visit to one of the area's Onyx, leather or textile factories – all products for which this area is renown.
Overnight Pamukkale 
(B, L)
Day 9 – Pamukkale to Istanbul & Afternoon Bosphorus Cruise 
This morning you will be picked up from your hotel and transferred to Denizli airport for your 07:45 flight to Istanbul. Upon arrival you will be greeted and transferred to your hotel for check-in.
You have seen the most beautiful splendid sites of Turkey. Now you are back in Istanbul, it's time to finish your sightseeing with a relaxing cruise on the famous Bosphorus Strait, which is the body of water that connects the Sea of Marmara to the Black Sea, and whose bridges connect the continents of Europe and Asia.  You will also visit the Spice Bazaar, where the smell of the spices and the calls of the merchants will make you feel as though you have been transported back in time.
You will be picked up from your hotel between 12:45-13:30. Our first stop will be at the Spice Bazaar. As you wander through the Spice Bazaar, it is easy to imagine this place as the final destination for traders who travelled from the East along the Silk Road centuries ago.
Next, we board our ferry for our Bosphorus Cruise. As we cruise along the Bosphorus Strait, we will pass beautiful old Ottoman-style wooden houses, Dolmabahce Palace, Rumeli Fortress, pavilions, gardens, mosques, and of course, the famous Bosphorus Bridge.
It is a great chance to see Istanbul from another perspective.  After your cruise, you will be dropped back at your hotel. Free evening.
Overnight Istanbul
(B)
Day 10 – Departure
Breakfast at the hotel. Check out. Transfer to the airport for your onward flight.
Thank you for giving us the opportunity to serve you with our 10-day Turkey tour. It gives us great pleasure that you have chosen us as your Turkey travel planner. We hope you liked your tour, services and our friendship. Best wishes for safe travels, and we hope to see you again one day soon.
(B)
Hotel Options




Pay & Confirm
Enquiry From