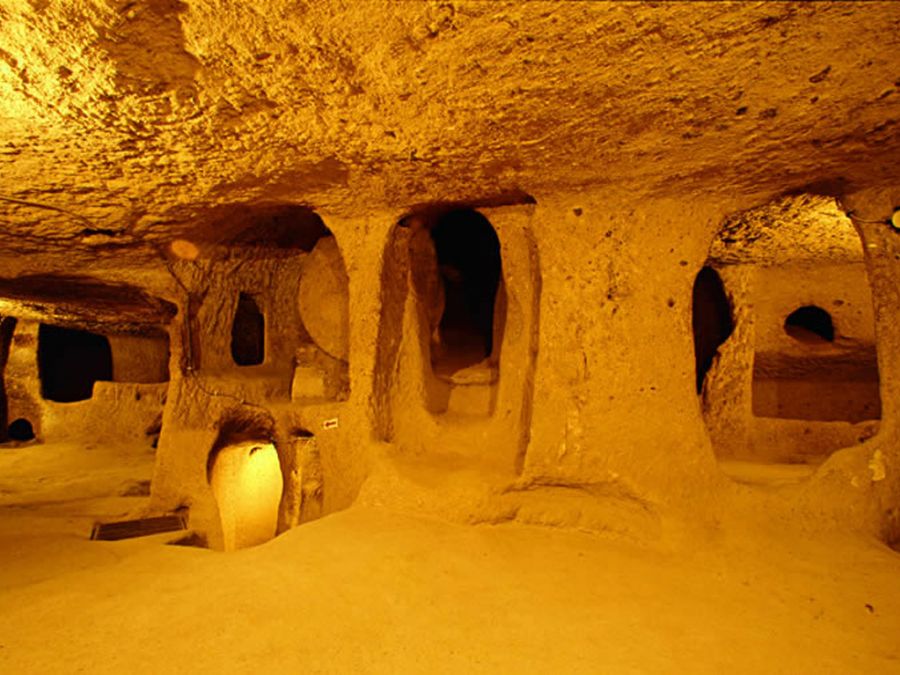 Flight tickets (Istanbul-Kayseri -Izmir-Istanbul)
Overnight bus from Cappadocia to Pamukkale
Transportation by A/C, non smoking vehicle.
2 days tours of Cappadocia: Highlights Sights
Full Day Guided Pamukkale –Hierapolis Tour
Full Day Guided Ephesus Tour
Lunch during the four full day tours
Two nights hotel accomodation.
Professional English speaking tour guide
All entrance fees mentioned in the Itinerary
Drinks
Dinners
Itinerary
Day 1 – Travel to Cappadocia From Istanbul 
You will be picked up in your Istanbul hotel lobby at approximately 5am by our driver who will transfer you to the airport for your 7.00am flight to Cappadocia.  You will arrive at Kayseri airport at approximately 8.15am, where you will be met by our driver who will be holding your name on a board.
Transfer to Cappadocia where you will meet with your tour group and commence your day tour which includes Devrent Valley, Zelve Open Air Museum, Monk Valley, Goreme Open Air Museum, Pigeon Valley and Uchisar Castle.
At the end of your tour of this area's magical landscape you will be dropped back at your cave hotel.
Overnight Cappadocia (L)
Day 2 – Cappadocia Sightseeing Tour  / Night bus to Pamukkale 
Your tour guide will meet you in your hotel lobby at approximately 9.30am for your guided tour which will include highlights such as KizilCukur, rustic Cavusin Village, one of the area's many underground cities, Ortahisar ,Catalkaya.
At the end of the tour you will be dropped back to your hotel so that you can wait in comfort prior to being picked up at 19:00 for your transfer to the bus station for your 20:00 overnight bus from Cappadocia to Pamukkale.
Note:  Pamukkale has some of the world's best conditions for paragliding, giving you a chance to paraglide over the magnificent travertines (cotton castle) and the ruins of Hierapolis. Please let us know if you would like to enjoy some paragliding in Pamukkale tomorrow, and we will make all of the necessary arrangements for you.
Overnight:  night bus (B, L)
Day 3 – Pamukkale Tour / Kusadasi 
You will be picked up by our driver from Denizli bus station where you will arrive at approximately 6.00am.  It's just a 20 minute drive to Pamukkale from here.  On arrival in Pamukkale you will be transferred to a hotel in Pamukkale for an opportunity to freshen up and some breakfast before starting your Pamukkale tour at 9.30am.
Your tour starts with a visit to the nearby village of Karahayit where you will visit the red springs, with waters coloured a rusty-red colour because of the high iron content of the water.
We then drive to the North gate of the UNESCO World Heritage-listed ancient Roman spa town of Hierapolis, and start our tour.  Hierapolis was an important place for healing in Roman times because of the believed therapeutic qualities of its waters.
As you wander the ruins with your tour guide, you will see highlights such as the necropolis (graveyard), one of the biggest in the region, with over 1500 graves, the Roman bath, the theatre and the Agora (ancient market).  You'll also hear stories of some of the famous characters from history who visited or lived here including Cleopatra and St Philip, whose tomb is on top of a hill outside the northeastern section of the city walls, and which you will be able to see from a distance.
We'll then take a break at the Cleopatra Antique Pool where the water is a pleasant 36 degrees celsius and filled with invigorating minerals.  Here, you have the chance to swim over Roman columns which believed to have fallen into the water during an earthquake.  Please note that entrance to the swimming pool is an additional 32TL per person, payable at the site.
Your guide will give you free time to paddle in some of the pools as you wander down the hill to Pamukkale's natural park and lake. You will then meet your tour guide for a late lunch.
The tour finishes at approximately 3.30-4.00pm, depending on the size of the group and its interests. At 4.00pm you will be transferred to Kusadasi (approximately 3 hours drive), with a refreshment stop at the halfway point.  You'll arrive at your hotel around 19:15.
Overnight Kusadasi (B, L)
Day 4  –  Ephesus Tour / Travel to Istanbul 
This morning you will be picked up by your  guide from your hotel at approximately 08:45.  We will then drive approximately 20 minutes to the magnificent ruins of Ephesus, an ancient Greek city, and later a major Roman city near present day Selcuk.  It was also one of the Seven Churches of Asia, cited in the Book of Revelation.  Today it is the most visited ruins site in Turkey, and the best preserved site in the Mediterranean.
Excavations of Ephesus began in the 19th Century, and some of the buildings you will see include gymnasiums, agoras, the Domitian Square, the Hadrian Temple, the Roman Bath, the Celsus Library and the biggest theatre in Anatolia with 25,000 seats. As you wander through these well-preserved ruins you will feel as if you have been transported back in time.
Next stop is a visit to the House of the Virgin Mary, which is believed to be the place she was taken to by St John to spend her last days.
After lunch we visit the Isa Bey Mosque – once used as a caravanserai, and famous for its architecture. Our final stop of the day is the site of the former Temple of Artemis which is one of the seven wonders of the Ancient World. Here you will learn about why Artemis was so revered by the Ephesians and although just one column remains of the temple you will be able to imagine it in its former glory.
At the end of your tour you will be transferred to Izmir airport for your flight back to Istanbul.  You will be met on arrival in Istanbul by our driver, who will transfer you back to your hotel. Services conclude on arrival at your hotel in Istanbul.
(B, L)
Hotel Options

Dedeli Konak Cave Hotel in Cappadocia

Pay & Confirm
Enquiry From