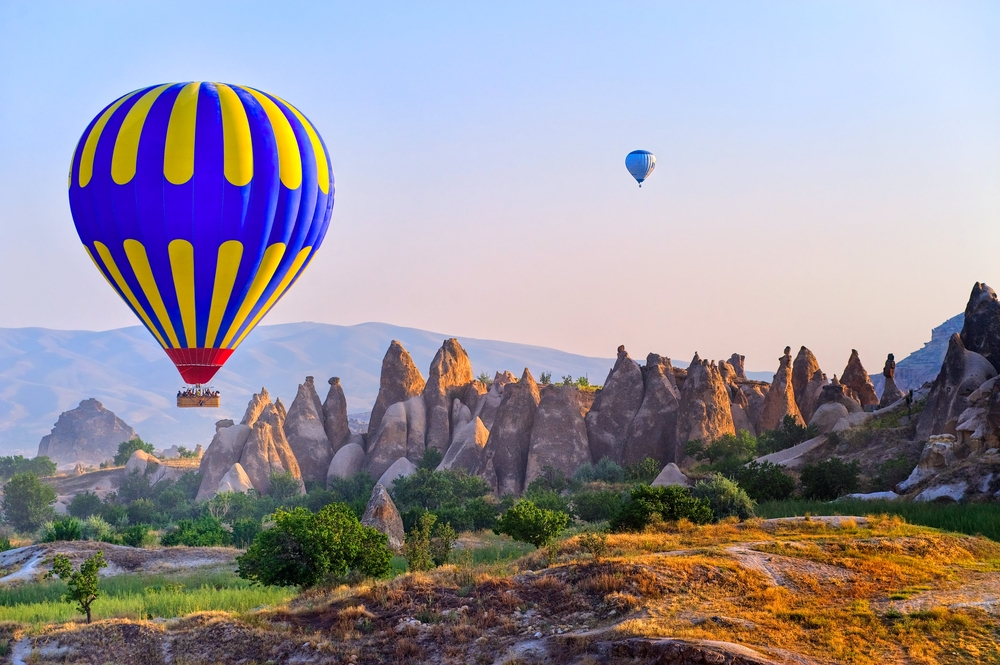 1 Hour balloon flight
Pick up & drop off from/to your hotel
Snacks, Tea, Coffee, Soft drinks
Per passenger insurance up to 1.100.000 Euro
Flight certificate with your name on it
Itinerary
Cappadocia sunrise hot air balloon flights are scheduled all year round, weather permitting.  It's a once in a lifetime experience, and bookings are important to make sure you get a place!
You'll be picked up from your hotel approximately 1 hour before sunrise (timing varies depending on the time of year).  You'll be driven to the take off point where you'll be able to have a tea or coffee and a snack while you watch the balloons being inflated.
Your pilot will give you a pre-flight briefing, then you will take to the air for your one hour hot air balloon flight over Cappadocia's surreal landscape, and what will likely be the highlight of your trip to Turkey.
As you drift gently through the air, your pilot will give you information about the region and its landscape. Make sure your camera is charged and you have plenty of space on your memory card as you are going to want to take lots of shots to capture your incredible experience.
Upon landing, you'll enjoy a champagne toast with your group before being dropped back to your hotel with plenty of time for breakfast and to get ready for your day of sightseeing.
FREQUENTLY ASKED QUESTIONS ABOUT HOT AIR BALLOONING IN CAPPADOCIA
Is it safe to ride in a hot air balloon?
As with any form of flying, there is an element of risk, however there are lots of controls in place to minimise risk and ensure passenger safety. All hot air balloons in Turkey are required to be licensed, and are subject to regulation.  There are minimum requirements in place in regard to pilot training, experience and health.  All hot air balloon companies must carry insurance.
In Turkey, hot air balloons are licensed by the Ministry of Transportation, Directorate of Civil Aviation. This is the same authority responsible for licensing and regulation of airlines in Turkey. The Directorate of Civil Aviation makes the decision each day regarding the safety of atmospheric conditions, and all companies must comply with its directions.
I'm not sure how I will go hot air ballooning, because I'm afraid of heights?
Hot Air Ballooning is a very gentle experience. It's not like looking off the edge of a building which is what often gives the frightening sensation that accompanies heights… Instead, you start on the ground and gently lift up, and you will find you are looking out, rather than down, and so the sensation is very different.  We've had many people who were afraid of heights, fly in a hot air balloon and loved every second of it!
How high do we fly?
Flying height varies depending on the weather conditions, however, we generally fly low at the beginning of the flight to give you the chance to look at the fairy chimneys up close. We also fly at around 1,900 feet so that you can get the feeling of being as free as a bird in the Cappadocia sky.  On a sunny day you will be able to see more than 70-80km (4045 miles), and out to Mount Erciyes.
Why is the flight so early in the morning?
The main reason for the early morning flight time is the weather, which is most stable at sunrise, when it is coldest.  This makes inflating and launching the balloon easier, and landing is less complicated.  And of course, there's the fact that sunrise is the quietest part of the day, and there is no finer experience than watching the sun rise over this beautiful landscape and enjoying the peaceful early morning.

Can children fly?
Children aged 7-12 years are able to fly if accompanied by their parents.
Children under the age of 7 years are not permitted to fly.
Pay & Confirm
Enquiry From