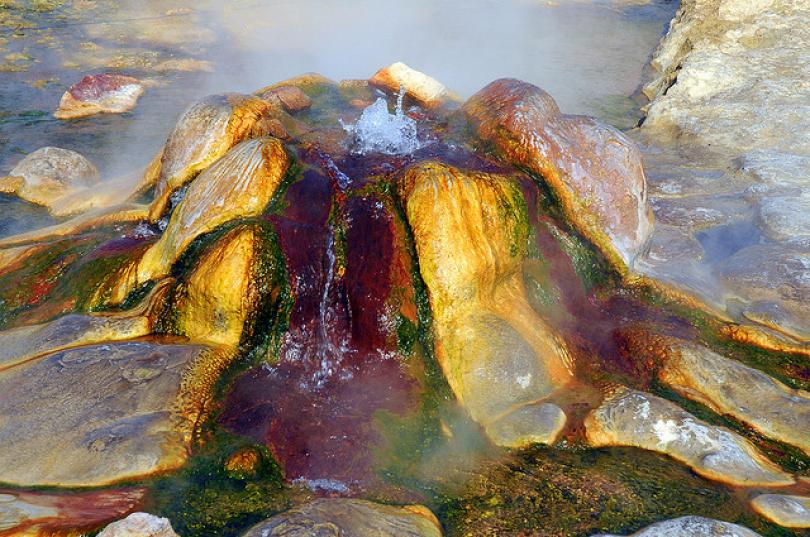 Lunch
English-speaking, licensed tour guide
Entrance Fees
Transpoortation
Pick up from your Pamukkale hotel
Drop off to your Pamukkale hotel
Drinks
Swimming pool entrance fee (32TL per person extra)
Itinerary
Pamukkale and Hierapolis Group Tour Itinerary:
You will be picked up from your Denizli, Pamukkale or Karahayit Hotel between 9-9.30am, with timing depending on your hotel's location.
We'll start our tour by visiting the red springs in the nearby village of Karahayit, where the waters are a rusty-red colour because of the high iron content of the water.
We then drive to the North gate of the UNESCO World Heritage-listed ancient Roman spa town of Hierapolis, and start our tour.  In ancient times, Hierapolis was a highly regarded place for healing, because of the reported therapeutic benefits to be had from bathing in its thermal waters.  People travelled from all over the Roman Empire for healing treatments here.
As you wander around the ruins with your tour guide, you will see highlights such as the necropolis (graveyard), one of the biggest in the region, with over 1500 graves, the Roman bath, the theatre and the Agora (ancient market).  You'll also hear stories of some of the famous characters from history who visited or lived here including Cleopatra and St Philip, whose tomb is on top of a hill, outside the northeastern section of the city walls, and which you will be able to see from a distance.
We'll then take a break at the Cleopatra Antique Pool where the water is a pleasant 36 degrees celsius and filled with invigorating minerals.  Here, you have the chance to swim over Roman columns which believed to have fallen into the water during an earthquake.  Please note that entrance to the swimming pool is an additional 50TL per person, payable at the site.
Your guide will give you free time to paddle in some of the pools as you wander down the hill to Pamukkale's natural park and lake. You will then meet your tour guide for a late lunch.  After lunch you will have the chance for a no-hassle, obligation-free visit to one of the area's Onyx, leather or textile factories – all products for which this area is renown.
After the tour finishes you will be dropped back at your hotel, or we can give you advice on buses to your next destination, or help you with a shuttle bus to the airport.
Notes:
If you are interested in an exciting paragliding experience over Pamukkale, feel free to contact us for booking.
If you are staying in one of the hotels in Pamukkale for the night, you also have the option of flying in a 
hot air balloon  at sunrise the next morning. Please contact us for more details.
Please make sure you bring a hat, sun cream, comfortable walking shoes and some water as parts of the site have very little shade.  You will also need a swim suit if you are planning on swimming in the Cleopatra Antique Pool.
Pay & Confirm
Enquiry From