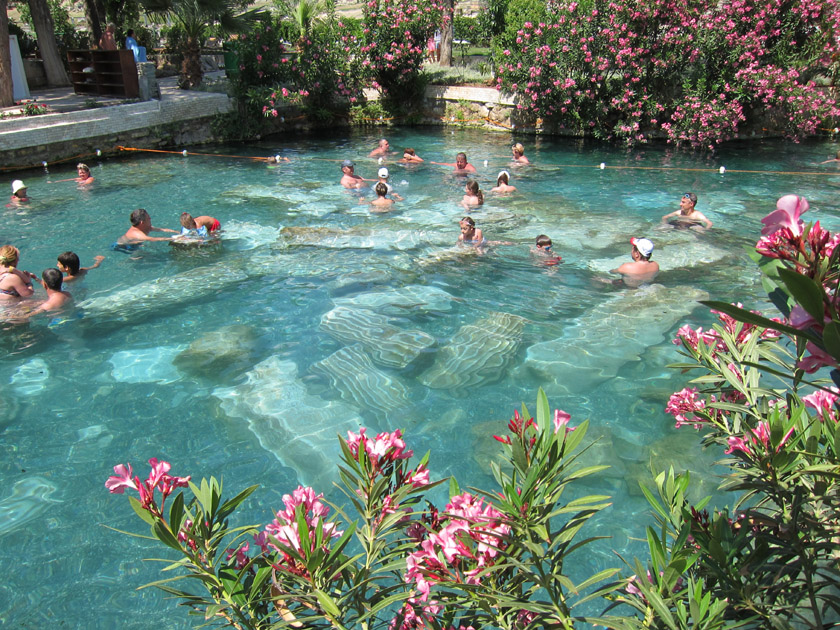 Pick up from airport to Pamukkale
Guided tour of Pamukkale
Lunch
Entrance fees
Transportations
Transfer from Pamukkale to Denizli airport
Drinks
Swimming pool entrance fees
Itinerary
Pamukkale Day Tour From Denizli Airport
On arrival at Denizli Çardak Airport one of our friendly team will meet you and transfer you to Pamukkale. The drive takes around 50 minutes and you will have a chance to see the beautiful countryside.
On arrival in Pamukkale you will have a little time to grab a coffee before the tour starts at 9.30am.
Your tour starts with a visit to the nearby village of Karahayit where you will visit the red springs, with waters coloured a rusty-red colour because of the high iron content of the water.
We then drive to the North gate of the UNESCO World Heritage-listed ancient Roman spa town of Hierapolis, and start our tour.  Hierapolis was an important place for healing in Roman times because of the believed therapeutic qualities of its waters.
As you wander the ruins with your tour guide, you will see highlights such as the necropolis (graveyard), one of the biggest in the region, with over 1500 graves, the Roman bath, the theatre and the Agora (ancient market).  You'll also hear stories of some of the famous characters from history who visited or lived here including Cleopatra and St Philip, whose tomb is on top of a hill outside the northeastern section of the city walls, and which you will be able to see from a distance.
We'll then take a break at the Cleopatra Antique Pool where the water is a pleasant 36 degrees celsius and filled with invigorating minerals.  Here, you have the chance to swim over Roman columns which believed to have fallen into the water during an earthquake.  Please note that entrance to the swimming pool is an additional 32TL per person, payable at the site.
Your guide will give you free time to paddle in some of the pools as you wander down the hill to Pamukkale's natural park and lake. You will then meet your tour guide for a late lunch.
The tour finishes at approximately 3.30-4.00pm, depending on the size of the group and its interests. We will then transfer you back to the Denizli airport after the tour, with transfer timing depending on your departure flight time.
While you are in Pamukkale, why don't you try a Tandem Paragliding Flight in Pamukkale? Pamukkale has some of the best paragliding conditions in the world, and here you will have the unique opportunity to tandem paraglide over the ruins of Hierapolis and Pamukkale's famous white travertines.
Pay & Confirm
Enquiry From